Some months ago, at one of the design teams I am on, we were asked to show our most favorite papercrafting tools. As I am primarily a cardmaker I composed a Top 15 of my most favorite cardmaking tools.
Today I am sharing this with you. Perhaps it can be a guide to new comers in this wonderful papercrafting hobby of ours. Or an inspiration to others. Or just fulfill your curiosity.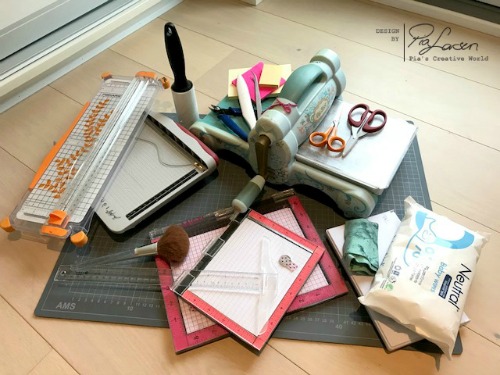 My list is not rated as if no. 1 is the cherry on the top. Look at these as being rated more or less equally.
You can read my Top 15 in Danish over on Hobbyboden.dk's blog HERE.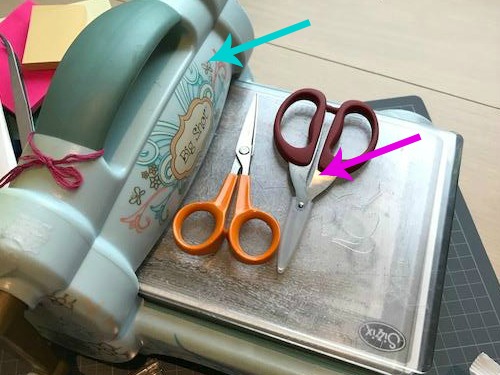 1. Sizzix Big Shot - Turqouise.
I absolutely love my Sizzix Big Shot and I use it every single time I am creating a card. Especially as I am a sucker for diecutting techniques. My first diecutting maschine was the Epic Six. I was happy with it - because I did not know better! When I tried the Big Shot for the first time I was sold. Then I understood how much of a difference there can be to a diecutting maschine. Had I known better and been advised better, I would have invested in a Big Shot from the beginning. When I started Scrapbooking there weren't that many types and brands to choose from. Now there is a lot of different choices on the market. The best advice I can get is that your choice should be based on need and quality.
2. Small Scissors - Pink.
I have two favorite scissors. The yellow is from Fiskars and is my Go-To girl. The scissor from Tim Holtz I don't use as often and mostly for thicker cardstock. Scissors come in a many sizes, colours and shapes. It's important your scissors fit your hand well.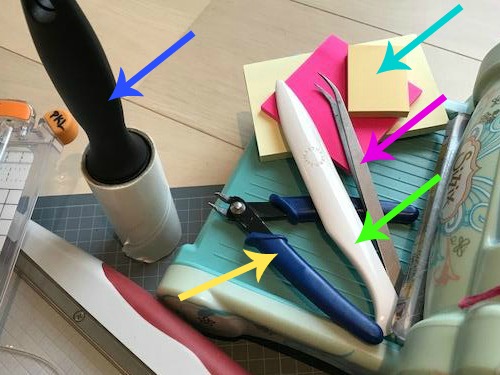 3. Bone Folder - Green.
One of my first ever cardmaking purchases was my bone folder and I cannot live without it. It has been used tons of times and every single time I am creating cards. I mainly use my bonefolder to create cardbases with. I cut and fold my own cardbases instead of purchasing them premade. If I should get a new bone folder I would get a teflon bone folder. This is on my wishlist for 2019.
4. Tweezer with fine point - Pink.
Having a tweezer with a fine point and a little bend point is a really good thing. This one helps me so much when adhering small pieces or placing diecut text straight on the cardfront.
The tweezer makes it much easier to see what you are working on instead of seeing your ten fingers.
I use Post-Its a lot! I always have some on my desk where I can write down the materials for a card while I am creating it. When my card is finished I can put the Post-It on the card and easily remember the materials when creating my blogpost. I don't usually have time to write the blogpost the same day as creating the card. And this is therefore a great help.
I also use Post-It's for masking techniques for smaller images.
6. Wire Cutters
- Yellow.
If you are into diecutting then you definitely need a pair of wire cutters. These are essential to cutting apart new die sets. When I first started out with dies I just bent and twisted the small dies apart. This you can do with some dies and not with others. The downside is that you get these really sharp and nasty wire ends. And they can cut you bad! Cardmaking and blood are not a good match. So it is a very good idea to invest in a pair of good wire cutters.
My wire cutters is purchased from Panduro Hobby and are not good! One day I will invest in a good quality pair.
7. Lint Roll for Clothes - Blue.
One thing that is perfect to use on a craf table is a lint roll for clothes. This roll is superb at cleaning up stray embossing powder, glitter powder and just all little bits and pieces from your craft table. If I have been working with embossing or glitter powder on my craft table I can afterwards roll over my workspace and quickly clean it off.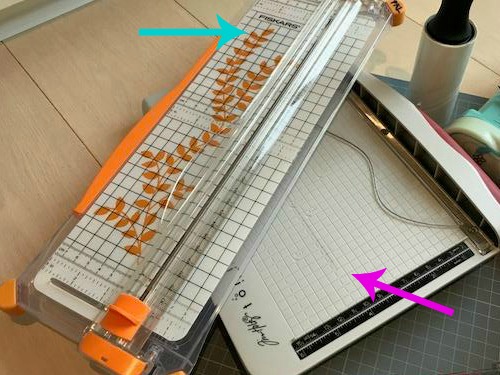 8. Papirtrimmer / Guillotine
I have been scrapping for quite a few years now and have been through a fair number of different papertrimmers. Right now I have 4 different kinds. I even keep my old ones in the closet. These are good when family comes to visit and wants to play with paper.
Here I will only talk about 3 of them, as they are my Go-To's for daily crafting. I cut my own cardbases on a big Da
hle Guillotine. Such a big sturdy guillotine is not essential for a beginner, one with limited space or on a tight budget. On the other hand, a papertrimmer as mine from Fiskars (
Turqouise arrow) is a good starting tool. An advantage with a papertrimmer is that you dont have to cut all the way accross your cardstock. Whereas when you use a guillotine you have to cut all the way. My absolute favorite is the
Tim Holtz Tonic Guillotine Trimmer
. It cuts really good and you can cut very thin pieces with this baby. I don't use my
Fiskars Paper Trimmer
with a metal wire as much as my Tim Holtz Tonic guillotine. But I will point out that I cannot go without a papertrimmer as these can cut 12x12 inch paper.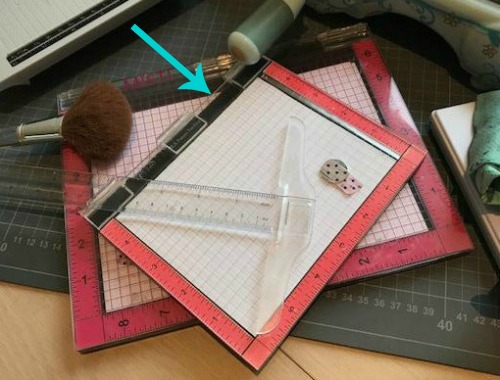 9. MISTI / Stamping Press
I honestly have 3 MISTI's in my craft room. When I bought my first standard MISTI (when it hit the market) I didn't really give it a real chance. I was so happy with my Fiskars Compact Stamping Press, that I didn't give the MISTI a chance. That was just stupid!
Now I use my MISTI all the time and my Fiskars Compact Stamping Press is now degraded to second choice. It is a wonderful tool to work with and it makes stamping a dream. It also makes it possible to play with many different stamping techniques.
This very moment I am the proud owner of 2 standard MISTI's and a Mini MISTI. The two last ones I have been able to by used from other crafters. And I would still love to get my hands on a second Mini MISTI.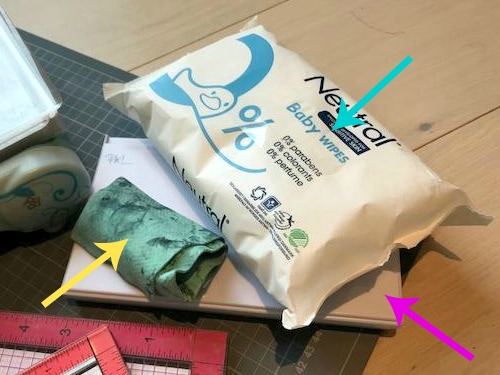 10. Stamp Shammy or baby wipes - Yellow+
Turqouise.
If you own stamps whether it is clear stamps or rubber stamps, then you need to clean them after use. The quick cleaning can be done with baby wipes
(t
urqouise arrow
) or with the
Lawn Fawn's Stamp Shammy
(yellow arrow). I use both but prefer the Stamp Shammy. The Shammy has a huge advantage as it does not leave lint/threads on the stamps. Baby wipes has a tendency to leave behind tiny invisible threads. You can't really see them untill you stamp and it turns out crap. This can be avoided by using the Shammy. And yes, the Shammy will get more and more inky and dirty looking. But it still works wonders.
11. Cleaning Pad / Scrubber Pad - Pink.
If I am working with layered stamping then it is important the get a really good cleaning of the stamps so the previous used ink colour doesn't miscolour the next ink colour. Here I use a
Scrupper Pad / Cleaning Pad.
When working with layered stamping it is always a good idea to start with the lightest ink colour first and work your way to the darkest one. But nevertheless you still might need to clean the stamp inbetween the ink colours. Please note, you need to use Stamp Cleaner with the Scrubber Pad.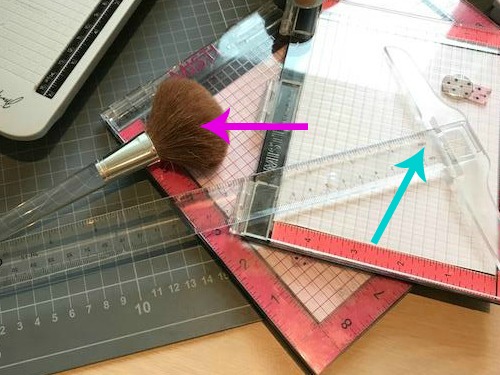 I am a nerd when it comes to straight lines. This is why I use a
T-ruler
to help line up things on my cards. If you are a beginner and own a standard ruler you can easily use this to start with. But if you have trouble lining things up properly then a T-ruler would be a great help.
13. Powder Brush - Pink.
Believe or not, but I use a makeup powder brush when I am working with glitter on projects. It is also really good at brushing off excess glitter, embossing powder, lint and other tiny bits. If anything is loose on your card surface you can carefully brush it away.
14. Craft Mat with gridlines.
I have a big grey carft mat on my craft table. One side has gridlines in inches and the other side with centimeters. For me it only matters that I have the gridlines. Again it's the nerd in me, who really like things to be straight and even. Here I often use the gridlines as a guide when adhering items/texts on my cards. It is also a great help when something needs to be centered.
The Spellbinders Tool 'n One is a great one, but I mostly use the roll brush end. When diecutting delicate and intricate dies the roll brush makes it a great deal easier to get all the little cardstock pieces out of the die again.
This is my Top 15 crafty tool list.
I hope it can be used as an inspiration or guide for some. I will though point out that depending on budget you can get very far with a few good quality basic tools. From experience I highly recommond bying good quality and not quantity. In the end it does pay out to invest in quality tools.

MISTI PRECISION STAMPER Stamping Tool
Shop at:
HB | SSS

MINI MISTI PRECISION STAMPER Stamping Tool
Shop at:
HB | SSS

Lawn Fawn STAMP SHAMMY Cleaner
Shop at:
HB | SSS | OB

Tsukineko STAMP CLEANER
Shop at:
HB | SSS | MISC

Stamp Scrubber Pad
Shop at:
HB | SSS

Sizzix Big Shot
Shop at:
HB | SSS

Spellbinders TOOL 'N ONE
Shop at:
HB | SSS

Fiskars SureCut Paper Trimmer
Shop at:
HB

Tim Holtz Tonic GUILLOTINE COMFORT PAPER TRIMMER
Shop at:
HB | SSS

Martha Stewart Bone Folder
Shop at:
MISC